Reputable Automotive Group with over 30 Years of History
The Dickson Group is a reputable Automotive Group with over 30 years of history in Singapore. Our businesses span across pre-owned car sales, leasing solutions, auto financing, insurance and aftersales service centre. We pride ourselves in being fair and transparent in all our business relationships with our valued business partners and customers. We are CaseTrust and Singapore Vehicle Traders Association accredited and ISO 9001-2015 certified.
The opening of our new 4-storey Dickson Auto Centre, fully-owned, housing a dedicated showroom, offices and aftersales service centre is a testimony to our company's continued growth and commitment to our valued business partners and customers.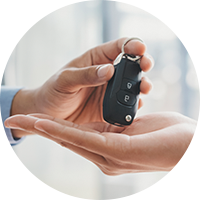 Dickson Automobile
Dickson Automobile is offer a wide range of certified pre-owned cars and offers peace-of-mind buying experience and aftersales support.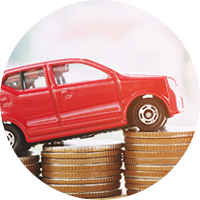 Dickson Capital
Dickson Capital is a trusted credit agent providing Dealers and their customers a full suite of credit facilities such as HP financing, in-house loans, COE renewal and floor stock financing. It partners many reputable financial institutions such as DBS, Maybank, Tokyo Century amidst many others.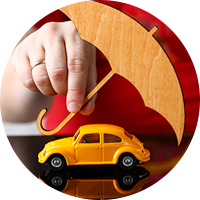 Dickson Insurance Broker
Dickson Insurance Broker is one of the top motor insurance agents for NTUC Income and AXA. It is the No. 1 corporate agency for NTUC Income and was awarded "Top Million Dollar Motor Producer" for 3 years in a row 2018 – 2020. Services provided include Motor, Health, Lifestyle and Business insurance.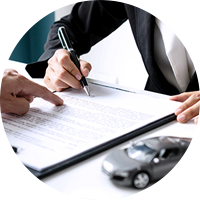 Dickson Auto Solution
Dickson Auto Solution provides customers with a wide choice of car ownership schemes – from lease to own, drive and earn plans amidst many others depending on customers' needs and financial preferences.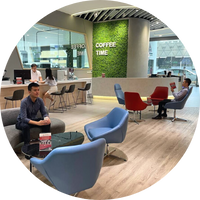 Dickson Auto Care Centre
Dickson Auto Care Centre is the latest addition to the Group. It is a 15-workbay workshop with experienced technical experts, providing servicing and repairs, accident reporting and extended warranty services.
VISION
To be a premier automotive solution provider, offering a wide and comprehensive range of services and facilities that inspire trust and innovation.
MISSION
Knowledge and fairness in our services delivered through ethical and transparent business dealings.
OUR PROMISE
At Dickson Group, we offer customers the best possible solution by being fair and transparent. We listen with care, advise with honesty and serve with a heart.
Listen. Advise. Serve.
Founder & Group CEO's Story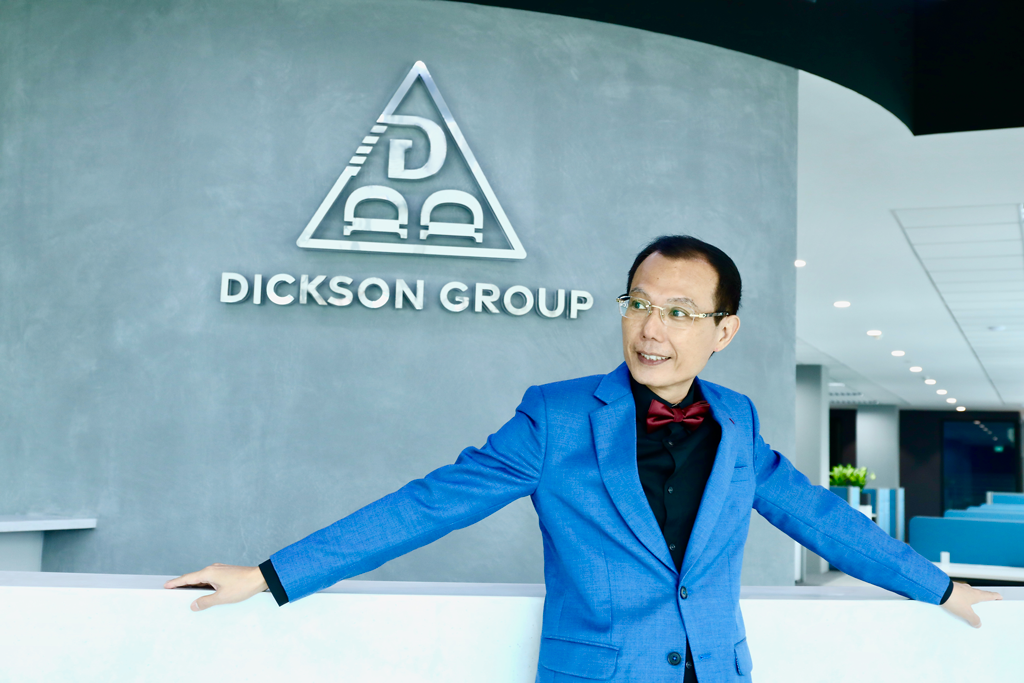 Mr Kim Wah Boon – the founder of the Dickson Group has come a long way since his humble beginnings. He was only two-month old in his mother's womb when his father passed away. His mother single-handedly raised the family of 6 children as a washer woman. As money was often tight, the mother had to take on three jobs to make ends meet. The family hardly have a chance to sit down together for a meal as young Kim and his siblings were all busy doing odd jobs to help support the family.
In a rare interview with Kim, who is a very private person, he shares his entrepreneurship journey and his philosophy in life which made him what he is today. The Dickson Group is now a multi-million-dollar company with businesses spanning across pre-owned car sales, leasing, hire-purchase, floor stock and in-house financing, insurance and aftersales.
Q: What made you decide to set up your first company – Dickson Auto Agency back in 1988?
Kim: I remember vividly the day back in Year 1986 when I visited a friend, who was working in a used car dealer as a despatch. When I stepped into his office, I was really shocked to see his sales team smoking and gambling, blatantly ignoring the customers who were browsing the cars on display.
One particular salesperson even had the cheek to tell a customer very rudely to hurry up and buy on the spot as there were many other interested parties eyeing the same car. When the customer started negotiating on the price, the salesperson was very sarcastic and spoke very loudly, "You never do your homework? Our price is the cheapest – take it or leave it!!!"
I was stunned at how they treated their customers. "Must all used car dealers have a bad name?", I wondered. At that moment, I saw the opportunity to plug the hole in the used car market and be different. I firmly believed if I could provide my customers with good automotive solutions and deal in a fair and transparent manner, I would surely earn the trust of my customers and get many referrals.
After serving my National Service, I registered my company and started my one-man business at my mother's rented unit located above a shop-house.  
Q. What struggle did you encounter at the beginning?
Kim: When I started the business, many friends mocked me and made snide remarks, "You are so poor! How do you do business without money??"  I didn't reply them nor get discouraged by their comments. I started the business by borrowing $5,000 from my friend and another $10,000 from my mother.
With the limited cash on hand, I purchased a car without making full settlement to the Bank on the seller's behalf until I managed to sell the unit. Working on this basis, it allowed me to purchase more cars with the limited capital on hand. I continued to roll the working capital as fast as I could for more deals.  
Often I had to endure sarcastic remarks from other car dealers, that the cheque I issued may be a rubber cheque. These struggles motivated me to work harder without complaint.
Q. You took a 5-year hiatus to do charity work between Year 2000 – 2005. Could you share why you did that and what made you decide to come back into the business again?
Kim: From Year 2000 to 2005, I was a volunteer working in a Community Club.  I assisted the MP of the constituency to walk the grounds during "meet-the-people sessions", as well as helped plan the community events.  I took up such volunteer work, due to the strong encouragement of my mother. I remembered she once told me when I was a kid that since the Social Welfare unit had helped our family with financial aid, I should repay back the kindness to the society one day when I have a chance to. In Year 2000, I felt that was the right time for me to do it. 
I came back to the business after 5 years serving at the Grassroots. Reason why I decided to return to running my own by business was because many of my fellow volunteers had left by then and my wife needed help to take care of our 3 kids.  When I was volunteering, I worked 7 days a week and was very busy attending meetings and events daily.  I hardly had any time for my family.  After deciding to leave the volunteer work, I adopted a "semi-retire" attitude while running my business, as I was able to bring home a decent income to provide a comfortable living for my family. 
One day, I met a friend who told me that God had given me the in-born talent to run businesses.  He could see that I was able to run businesses effortlessly to achieve a decent profit. He told me to cherish and make good use of my ability.  By expanding the business, I could create more jobs and helped others at the same time with gainful employment. 
For that reason, I rebuilt Dickson Group and transformed it from a traditional car dealership business to one which helped our dealer partners to succeed.
Q. What were some of the critical milestones/ events which guided you to shape the businesses to what they are today?
Kim: Whilst my long term vision is to transform the business to be a platform to connect people, I face challenges on how to integrate all my ideas together. I decided to further my study so as to equip myself with the required knowledge to execute my ideas.
After going through several rounds of interviews with the University professor, I managed to be enrolled into a MBA program, with only my GCE O-level Certificate. I was told that the reason they accepted my application was due to my experience, proven track record and success in my existing business.
For me, studying is the most challenging thing to do in life, and it is much tougher than running a business. As I was just a GCE O-Level student, it was really difficult for me to catch up and manage my studies. With the encouragement of my school's professors, I studied really hard. Often, I was the first one to reach the class and the last one to leave the school.
I had to juggle between taking care of my business and studies, whilst also taking care of my three kids. Every night, I waited for my kids to fall asleep before burning the mid-night oil to cram for the exams. I remembered having to study till 2am – 3am daily, but also to report to work at the office at 9am sharp daily.
My first assignment was rejected seven times before I eventually received a pass. The MBA program really helped to broaden my knowledge and equip me with different perspectives. This in turn helped to consolidate my experience and knowledge in a more structured manner which helped me run my businesses better.
In a nutshell, the knowledge acquired from the MBA, given me the skills set to build a more Structure, Systematic and Scaleable Organization. On top that, it also helps me to manage the Risks Exposure, Macro Views of the world's Economic, Integrating of all Strategies and Market Intel to operate all the businesses in a more professional and holistic way.
Q. What is the Number 1 problem you feel exist in the Automotive industry in Singapore and you hope Dickson Group can help to solve?
Kim: In the motor industry, there's still lack of transparency. At Dickson Group, we create a good buying experience for all our customers by being fair and transparent in all our dealings. As our Dickson Group tagline says, "We don't just sell product, we sell trust!".
Q. Where do you see Dickson Group going from here for the next 10 years?
Kim: In line with our vision to be a premier automotive solution provider in Singapore, offering a wide and comprehensive range of services and facilities that inspire trust and innovation; we hope to attain a significant market share in terms of the buy and sell car transaction volume in the market. 
Q. What would you tell your younger self if you could go through the whole entrepreneurship journey again? Is there anything you would do differently?
Kim: I do not think I would have done anything differently as I am very grateful with what I have achieved so far.  
Q. What is the Number 1 guiding principle that has served you well all your life?
Kim: Having self-discipline to me is the most important principle, and it has served me well.
Cool Timeline
Founded Dickson Service Enterprise – later renamed as Dickson Auto Agency (DAA)
DAA was appointed the authorised insurance agent of NTUC Income, Asia Insurance and HSBC Insurance.
DAA opened its 2nd office at Roxy Square.
DAA opened its 3rd office at Automega Mart.
Dickson Automobile Pte Ltd (DAP) was set up dealing with parallel imports. Also acquired Auto Mega Trading Pte Ltd and became a Nissan authorised dealer.
Auto Mega was awarded the "dealer of the year" by Tan Chong Motors for 4 consecutive years.
Dickson Capital Pte Ltd (DCP) was set up to provide Hire-Purchase and In-house financing for car dealers.
DAP stopped its parallel import business and focussed only on sales of Pre-owned cars.
DAP was accredited by CaseTrust (Consumer Association of Singapore) and SVTA (Singapore Vehicle Traders Association).
DCP extended floor stock financing to car dealers. DAP awarded the top "Singapore SME 1000 Companies". Founder Mr Kim awarded "The Entrepreneur of the Year" by ASME (Association of Small Medium Enterprises) and Rotary club of Singapore.
DAA became one of the top tier producers of AXA and NTUC Income.
Dickson Auto Solution Pte Ltd (DAS) was set up to provide innovative solutions for end consumers to own a car.
Dickson Group of companies were awarded ISO9001:2015. DAA was renamed Dickson Insurance Agency Pte Ltd (DIA) with plans to expand beyond Motor Insurance. DIA was also awarded "Top Million Dollar Motor Producer" by NTUC Income.
Dickson Auto Leasing Pte Ltd (DAL) was set up to provide leasing options to both individuals and private hire drivers.
Dickson Group of companies are now proudly housed in their own brand new 4-storey building. It boasts of an integrated pre-owned car showroom and a 15-bay workshop known as the Dickson Auto Care Centre Pte Ltd (DACC).
DAP became an Authorised Dealer for the BYD eT3 commercial vehicle.
Dickson Group was awarded the Heritage Brand Award by the Singapore Prestige Brand Award 2020/21.
Founder & Group CEO Mr Kim Wah Boon was awarded the "Entrepreneur of the Year 2022", and also the Overall Winner award in the Established Entrepreneurs category by the Association of Small Medium Enterprises (ASME) and The Rotary Club of Singapore.
Dickson Group launched Singapore's first ever live auction platform for pre-owned cars.